Service Areas within Appleton:
Dumpster Rental in Appleton, WI
Whether you need a dumpster for your Appleton home, business, or job site, Green Bay Dumpster Rental has you covered. Our easy-to-use rental services take the confusion out of renting a dumpster. Enjoy flat rate pricing on all dumpster rentals with no additional fees for fuel, tax, environmental, or administration.
What can you throw into a dumpster?
We make dumpster rental easy and affordable for Do-it-Yourselfers and businesses of any size in Appleton, WI. Order a dumpster online and save $20.00 off your entire order. Our dumpster rentals are great for home and garage cleanouts, small remodeling projects, estate sales, construction jobs, roof tear-offs, yard cleaning jobs, and more.
What size dumpster do I need?
Picture a midsize car. If you were to dump out a 12-yard dumpster in your driveway the debris would be about the size of a midsize car. If a two-car garage was filled up with debris you would need a 30-yard dumpster. Breaking down every item and laying them flat will increase the amount you are able to discard. Do not fill any dumpster over the top rim of the container. The dumpster will not be able to be safely transported over the road and this can result in a trip fee.

Picking the right dumpster is easy with Madison Dumpster Rental. Give us a call to talk about the specifics of your project. Determine the scope of work for your project and find the right dumpster.

30-Yard Roll-Off Dumpster: The best value for new home construction, demolition, large remodeling, estate clean-outs, hoarder house clean-ups, decluttering, and downsizing a home after 30 years of life.

20-Yard Roll-Off Dumpster: The best value for a residential home clean-up. Going through all your stuff in the living area, basement, and garage. Great for medium-sized remodeling projects, and roofing projects of 30 - 50 roofing squares.

12-Yard Roll-Off Dumpster: The best value for a single bathroom or kitchen remodeling project. A quick weekend clean up of your house garage and basement. Small roofing projects up to 30 roofing squares.

6-Yard Roll-Off Dumpster: The best value for small clean-up jobs. It is the equivalent of 2 full-size pickup truck loads. Great for decluttering your home of unwanted toys, bikes, furniture, clothes, magazines, and those misc boxes of stuff stored in your basement. Great for the clean-up of storage units.
Dumpsters for Concrete
Whether you're breaking up an old driveway or renovating your porch, you'll need a way to dispose of all the old concrete and rebar. We'll help you with low-cost concrete rental dumpsters you can load yourself, and even haul the dumpster away for you! Please call us before you decide to order a dumpster for concrete removal in Appleton.
If you're wondering how much concrete you're allowed to put in a dumpster, we have your answer!
Dumpsters for Roofing
If you need a dumpster for roofing shingles and are not sure as to what size to order we can help you to find the right-sized dumpster for your roof tear-off. Knowing what size you need and how much your trash is going to weigh is critical when ordering a dumpster. Knowing how much your dumpster is going to weigh can help you to determine how much the container is going to cost if the weight exceeds the ton cap.
With affordable prices and a schedule tailored to your needs, Green Bay Dumpster Rental provides a convenient and reliable no-hassle service for Appleton residents and construction jobs.
Appleton Area Dump and Recycle Locations
2625 E Glendale Ave, Appleton, WI 54911
Landfill/Recycling Drop-Off
1919 Holland Road (Gate #3), Appleton, WI 54911
Monday – Friday
7:00 am to 3:30 pm
Saturday
7:00 am to 11:00 am
Outagamie County Recycling and Solid Waste
1919 Holland Road (Gate #3), Appleton, WI 54911
Garbage, Appliances, Electronics, Yard Waste, Construction Waste, Curbside Recyclables, Waste Oil, Vehicle Batteries
Appleton Dumpster Rentals for All Types of Projects
Cleaning out your house, garage, attic, barn, or shed? We're here to help. We have many different dumpster sizes. Here's a tip to help you find the correct size dumpster: Every year you live in a home you accumulate about one yard of garbage. If you have a lot of large items such as furniture, try a 12-yard roll-off. It fits perfectly in a driveway and roll-offs have a door you can swing open to walk material into. Find stuff in the basement, attic, and garage.
Some items that are allowed in all dumpsters include Couch, armchairs, tables, mattresses of all sizes, box springs of all sizes, bed frames, headboards, old dressers, nightstands, clothes, shoes, rugs/carpet, old food, canned goods, old dishes, old pots and pans, glass wear, lamps, kitchen tables, coffee tables, desk, tools, lawnmowers, kids toys, pictures frames, holiday decorations, shredded paperwork, Styrofoam, boxes, metal, leftover construction material, and so many more items.
We offer different size containers for all your cleaning needs and we have long term rental periods. Keep the container up to 15 days and call us when you need it removed. The cost of the dumpster includes the pick-up, removal, tonnage cap, and the 30-yard rental. Please see our pricing guide for the tonnage caps. We have skilled staff to help with any questions or help you find the correct size container. We also offer a $20 discount if you place an order online.
Need an affordable dumpster rental for your Appleton project? Contact Green Bay Dumpster Rental today and save $20 if you order online.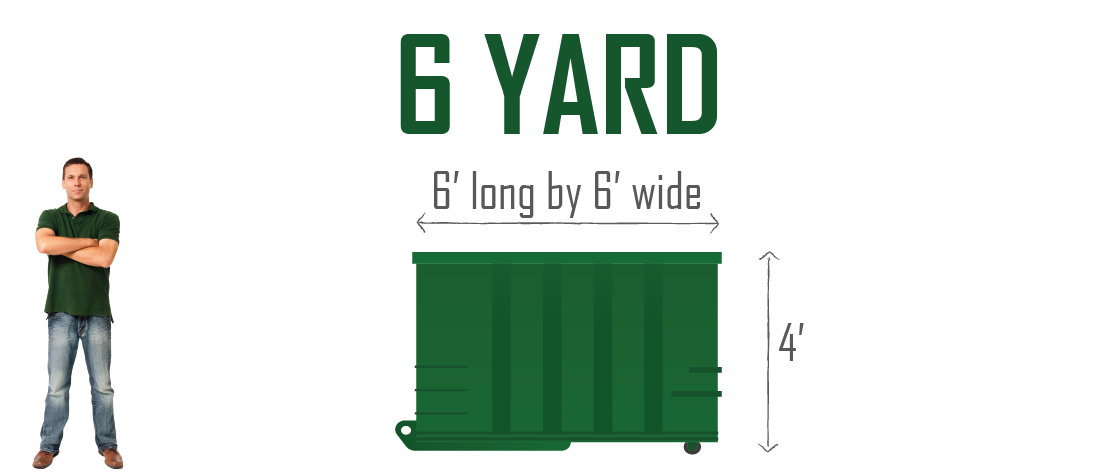 6 yard roll-off dumpsters are ideal for small-scale home cleaning projects. These will fit in narrow driveways and most alleys.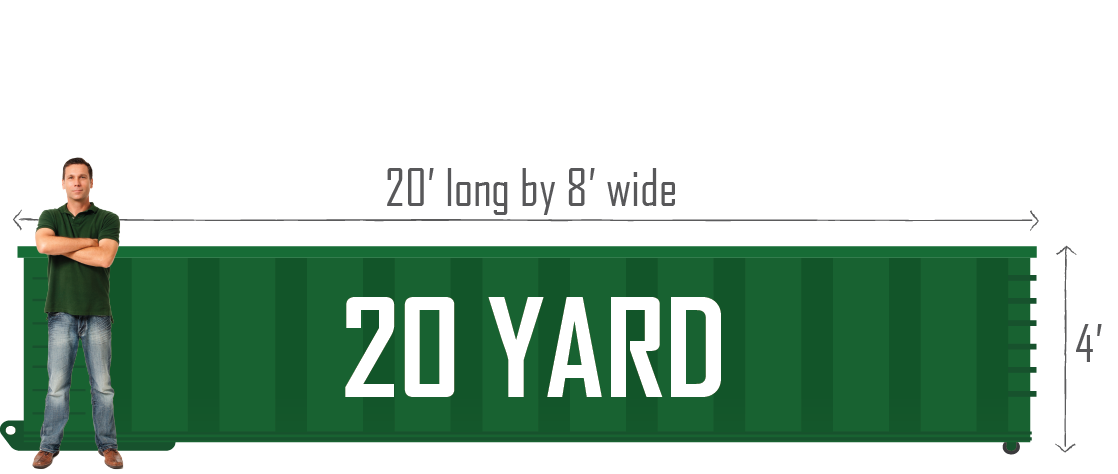 20 yard roll-off dumpsters are the most common choice for medium to large scale home remodeling and construction projects.