Service Areas within Appleton:
Dumpster Rental in Appleton, WI
Whether you need a dumpster for your Appleton home, business, or job site, Green Bay Dumpster Rental has you covered. Our easy-to-use rental services take the confusion out of renting a dumpster. We have a flat rate price for all our dumpster rentals, and no additional fees for fuel, tax, environmental or administration.
We make dumpster rental easy and affordable for Do-it-Yourselfers or businesses of any size in Calumet, Outagamie, and Winnebago counties. You can order a dumpster over the phone, but online orders have a $20.00 discount. Some of the services we provide dumpster rentals for include:
Home and garage clean outs
Small remodel projects
Moving
Estate sales
Construction or remodeling
Demolition
Roof tear-off
Fall or spring cleaning
Yard waste cleaning
Residential / Business
Concrete disposal
Dumpsters for concrete disposal
Because of the weight of concrete sizes offered for concrete disposal are limited to 12 yard and 20 yard. 20yrd concrete boxes can only be filled half the way. Please call us before you decide to order a dumpster for concrete removal.
Dumpsters large and small for roofing shingles
We carry many different sizes. If you need to get rid of waste from a small or big project, one-time or reoccurring, we have the perfect plan. We drop off a container, you fill it, and we haul it away. Every time that you request another empty roll off dumpster it is another charge. If you need a dumpster for roofing shingles and are not sure as to what size to order we can help you to find the right sized dumpster for your roof tear off. Knowing what size you need and how much your trash is going to weigh is critical to ordering a dumpster. If you order too small of a container you may have to order a second dumpster. Knowing how much your dumpster is going to weigh can help you to determine how much the container is going to cost if the weight exceeds the ton cap. If at the end of the job you find that you have a small amount of waste left over you can haul it to a dump recycle facility listed below.
Appleton Roll-Off Container Rentals are Affordable
Roll off dumpsters are ideal for cleanup and construction jobs in Appleton. All of our roll off containers have a door located in the back, which helps when disposing large items such as couches or construction waste. Our roll off dumpster sizes are 20 Yard Roll Off (perfect for major garage, basement, attic or yard cleanup or remodeling job) and 30 Yard Roll Off (perfect for major projects like garage demolition, new construction, large home or business additions, or window and siding replacement).
With affordable prices and a schedule tailored to your needs, Appleton Dumpster Rental provides a convenient and reliable no-hassle service.
Appleton Area Dump and Recycle Locations
2625 E Glendale Ave, Appleton, WI 54911
Landfill/Recycling Drop-Off
1919 Holland Road (Gate #3), Appleton, WI 54911
Monday – Friday
7:00 am to 3:30 pm
Saturday
7:00 am to 11:00 am
Outagamie County Recycling and Solid Waste
1919 Holland Road (Gate #3), Appleton, WI 54911
Garbage, Appliances, Electronics, Yard Waste, Construction Waste, Curbside Recyclables, Waste Oil, Vehicle Batteries
A Greener Vision Recycling
2350 West Packard Street, Appleton, WI 54914-3153
(920) 882-0074
Appleton Aluminum Recycling
300 North Kensington Drive, Appleton, WI 54915-2909
(920) 733-6999
Bee J Enterprise
4845 West Greenville Drive, Appleton, WI 54913-8808
(920) 733-2140
Blue Bus Recycling Llc
2220 West Everett Street, Appleton, WI 54914-4773
(920) 954-0491
Lasersave Inc Computer Supplies
- Computers Toner & Ink Cartridge Recycling
225 North Richmond Street Suite 102, Appleton, WI 54911-4601
(920) 735-0444
Print Cartridges On-Site Certified Service And Repair For PCs, Alterations & Rebuilds, Print Center
Mickelson Scrap Metal
1621 North Clark Street, Appleton, WI 54911-3654
(920) 739-4990
Ms Materials Ltd
1111 North Lynndale Drive, Appleton, WI 54914-3045
(920) 993-9296
West Wi Ave Travel Plaza
2775 West Wisconsin Avenue, Appleton, WI 54914-1713
(920) 993-8706
Services: Cylinder & Rv Filling, New Cylinder Purging, 100 Ib Cylinder Rental
Categories: Recycling Drop-Off Centers, Propane & Natural Gas
Areas Surrounding Appleton
Brillion

Brillion City Hall 
130 Calumet Street 
Brillion, WI 54110
Directions from the US Post Office 210 East Water Street, Brillion, WI 54110:
Head east on E Water St toward S Francis St, Turn left at the 1st cross street onto S Francis St Turn left onto Calumet St.
Batteries, Waste Oil, Concrete
Batteries, waste oil, and concrete will not be picked up by Advanced Disposal. Calumet County residents who change their own oil can recycle used engine oil at various locations in Calumet County. Including the Walmart Tire and Lube Express in Appleton and Chilton. For options to dispose of these items, please contact the Wisconsin Dept. of Natural Resources 608-266-2111.
E-Cycle Wisconsin
Wisconsin's electronics recycling law was signed by Governor Doyle in October 2009 as Act 50. The law establishes a statewide program, now called the E-Cycle Wisconsin program, to collect and recycle certain electronic devices. It is based on a product stewardship approach, which assigns primary responsibility for collection and recycling to the manufacturer. The law also bans certain electronics from Wisconsin landfills and incinerators after September 1, 2010.
Electronic recycling collectors in the Brillion area include; Best Buy in Appleton and Green Bay, Lamp Recyclers Inc in Green Bay, Milwaukee PC in Green Bay and Manitowoc County Recycling Center in Manitowoc. Residents are encouraged to contact the collector before taking electronics to a site.
Grand Chute

Grand Chute WI
1900 W. Grand Chute Boulevard
Grand Chute, WI 54913

Grand Chute provides weekly refuse and bi-weekly recycling pickup through a contract with Advance Disposal.
Waste Management Land fill
3001 E Glendale Ave, Appleton, WI 54911
Directions from Lowe's Home Improvement W3255 Van Roy Road, Appleton, WI 54915 Take Van Roy Rd to E College Ave Continue on E College Ave. Take WI-441 N and E Northland Ave to N Roemer Rd in Appleton Continue on N Roemer Rd. Drive to E Glendale Ave.
Harrison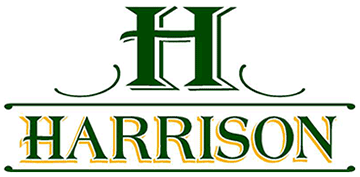 The Town and Village of Harrison Municipal Building hours are
We are located at the intersection of State Park Rd and Hwy 114
W5298 HWY 114 Menasha, WI 54952. 1 mile from Sunrise Elementary School N9363 Exploration Ave
Appleton, WI 54915  Head north on Exploration Ave toward Hoelzel Way
Turn right onto Hoelzel Way, Turn left onto County Rd N

Bulky Item Pickup
Residents may now request curbside pick-up of bulky items and white good. Bulky items include mattresses, box springs, indoor/outdoor furniture, swing sets, plastic swimming pools, large toys, bicycles, fish tanks, sofas, chairs, tables, carpets and other similar items. White goods include regrigerators, ranges, water heaters, freezers, dishwashers, trash compactors, washers, dryers, air conditioners and commerical large appliances.

To have an item removed you must purchase a sticker by noon the the 3rd Wednesday of each month. If item does not have a sticker, it will not be picked up. Stickers cost $50.00 for each item and can be purchased at the Harrison Municipal Building weekdays from 7:30-3:30pm (cash or check only).

Yard Waste Site
The Yard Waste Site is located behind the Harrison Municipal Building. It is open seasonally Mid April to Mid November (call 920-989-1062 for exact dates) for the disposal of yard clippings no larger than 3 inches in diameter and soil. Yard waste placed in biodegradable bags is okay to dump.

The site is also open during the month of January for Christmas Tree disposal. The Town and Village of Harrison does not provide Christmas Tree removal/pick-up.
You can purchase your yard waste pass at the Harrison Municipal Building for $5.00. This pass is good for the life of the vehicle. Limit of two per household.
Second full week of each month (Sunday - Saturday). Overflow of garbage, furniture, mattress etc. may be placed out for pickup. All major appliances will need a sticker before placing out for collection. You may purchase a sticker from the City Clerk's office at 201 West Second Street, Monday through Friday between 8:00 a.m. and 4:30 p.m.. Refrigerants (freezer, refrigerator, air conditioner or dehumidifier) are $15.00. Non-Refrigerants (stove, microwave, oven, washer, dryer, dishwasher, furnace or water heater) are $10.00. You may also place out any other metal items at this time for no charge.
RECYCLING COLLECTION
If you have questions about your curbside recycling collection, contact Inland Service at 759-0501. Questions can also be directed to Outagamie County's recycling hotline at 1-800-501-1616. Please remember to have your recyclables placed at the curb or alley line before 6:00 a.m. on your collection day.
TIRE COLLECTION
The Street Department will collect a maximum of four (4) tires from residential customers only, rims must be removed. Tires are picked up twice a year, coordinated with the County Landfill. Dates are posted when they come available.

WASTE OIL DROP-OFF SITE
The waste oil drop off site is available for residents of the City of Kaukauna at the City Garage, 222 W 3rd St, Kaukauna, WI 54130, during the hours of 6:30 a.m. to 3:30 p.m., Monday through Friday. This drop off site is for waste oil only. No gas, anti-freeze, paint, thinners, etc. can be disposed of at this site.
Directions from Carstens Ace Hardware Inc. 400 East Ann St, Kaukauna, WI 54130 Head west on E Ann St toward Konkapot Trail Rd Turn left onto Konkapot Trail Rd Turn right onto E College Ave At the traffic circle, take the 1st exit onto Crooks Ave, Turn left onto E 3rd St.
Kimberly

Kimberly WI
Village Clerk's Office
515 W. Kimberly Avenue

LARGE ITEM COLLECTION
Large, bulky, not metal items, such as chairs, couches, toilets, sofas, mattress, box springs, and carpeting, rolled and tied in four ft. lengths, etc. will be picked up on your last garbage pickup day of the month.

TIRE PICK-UP
The Village of Kimberly will provide a free tire pick up ONLY on the following dates:
Spring: All residents will be have tire collection on Friday, April 15, 2016
Fall: All residents will be have tire collection on Friday, September 23, 2016
This free tire pick up has been authorized by Outagamie County and the Village will not pick up tires at any other time. There is a limit of 4 tires per household, rims are acceptable, and tires cannot be larger than 16" passenger vehicle tires. (NO business generated tires)
METAL & APPLIANCE PICK UP
Appliances that have refrigeration coils (freon) in them such as: refrigerators, freezers, air conditioners and dehumidifiers cost $15.00 for pick up.
All other appliances such as: washers/dryers, stoves, water heaters, microwaves, and other metal items cost $10.00 for pick up. Other metal items include swing sets, cloths line poles, lawn mowers, grills, car parts, snow blowers, cast iron tubs/sinks, and etc cost $10.00 for pick up.
A sticker will need to be purchased at the Street Department or Clerk's office and applied to the item for pick up. If a property owner purchases a sticker prior to 4:00 PM on Thursday the item will be picked up on Friday of the same week.
YARD WASTE PICK-UP
For the Spring & Fall Yard (free) Waste Pick Up:
All Yard waste must be placed in recyclable paper yard waste bags.
Yard Waste bags are avaialble for purchase for $0.50 per bag at the Village Clerk's Office and Street Dept. Office.
No Grass Clippings!
Any shrub clippings, less than 6", can be mixed with this material.
Branches longer than 6" require a special pick up on Thursdays. Residents must call 788-7507, by 4:30 PM on Wednesday to schedule a Thursday pick-up.
Spring: Tuesdays April 5 & 19, 2016 for residents with a Tuesday garbage collection and Fridays, April 8 & April 22, 2016 for residents with a Friday garbage collection.
Fall: Tuesday, October 18, 2016 for residents with a Tuesday garbage collection and Friday, October 21, 2016 for residents with a Friday garbage collection.
In addition to the Spring Yard Waste Clean Up, the Village also will pick up shrub trimmings (not to exceed 6"), lawn edgings, and weeds on the 3rd Friday of each month, from May to September. This material must be placed in a biodegrable paper bag with a special Yard Waste Sticker attached. These bags and stickers are available at the Street Department Office and the Clerks Office at a cost of $.0.50 per bag and $1.00 per sticker. No grass clippings will be picked up at any time. Persons must call the Street Department (788-7507) to schedule a monthly yard waste pickup (May - September).
Hazardous Waste Collections
Residents are encouraged to dispose of hazardous materials during our hazardous waste collections held at Outagamie County Recycling & Solid Waste.

Directions from Shopko Kimberly
800 East Maes Avenue, Kimberly, WI 54136
Head north on N Washington St toward Prospect St
N Washington St turns slightly left and becomes Madison St
Turn left onto W North Ave Turn right onto Holland Rd.
Sherwood

The Village of Sherwood's Public Works Dept
W482 Clifton Road, Sherwood, Wisconsin 54169

The Village provides a yard waste site for resident use only. The yard waste site is located at the corner of County M and Kesler Road and is open the last two (2) Saturdays in April. Starting May 1, the site will be open three days a week: Tuesdays and Thursdays from 2 pm to 6 pm and Saturdays from 8 am to 1 pm. This site is a collection point for grass clippings, leaves, and branches. The site remains open for the first two (2) Saturdays in November.
The following are not acceptable: plastic bags, branches greater than 3 inches in diameter or 4 ft in length, stumps or shrubs with root balls intact, landscaping material, sod, clay/dirt of any kind, rocks, bricks and t-posts.
Landfill -To discuss additional garbage collection options, or call Hickory Meadows Landfill at 920-853-8553. The landfill is located at W3105 Schneider Rd, Hilbert, WI 54129.
Directions from the Fox Valley Alfalfa Mill Inc 508 North 3rd Street, Hilbert, WI 54129
Head south on N 3rd St toward Star Ct
Turn right onto W Cedar St
Turn left onto WI-32 S/WI-57 S/N 8th St
Turn right onto Schneider Rd
It's that time of year again. Cleaning out your house, garage, attic, barn or shed? We're here to help. We have many different different dumpster sizes. Here's a tip to help you find the correct size dumpster: Every year you live in a home you accumulate about one yard of garbage. If you have a lot of large items such as furniture, try a 12 yard roll-off. Fits perfectly in a driveway and roll-offs have a door you can swing open to walk material into. Find stuff in the basement, attic and the garage. Here are some items that are allowed in all dumpsters; Couch, arm chairs, tables, mattresses of all sizes, boxsprings of all sizes, bed frames, headboards, old dressers, nightstands, clothes, shoes, rugs/carpet, old food, canned goods, old dishes, old pots and pans, glass wear, lamps, kitchen tables, coffee tables, desk, tools, lawn mowers, kids toys, pictures frames, holiday decorations, shredded paperwork, Styrofoam, boxes, metal, left over construction material and so many more items. We offer different size containers for all your cleaning needs and we have long term rental periods. Keep the container up to 30 days and call us when you need it removed. The cost of the dumpster includes the pick up, removal, tonnage cap and the 30 yard rental. Please see the pricing page for the tonnage caps. We have a skilled staff to help with any questions or help you find the correct size container. We also offer a $20 discount if you place an order online.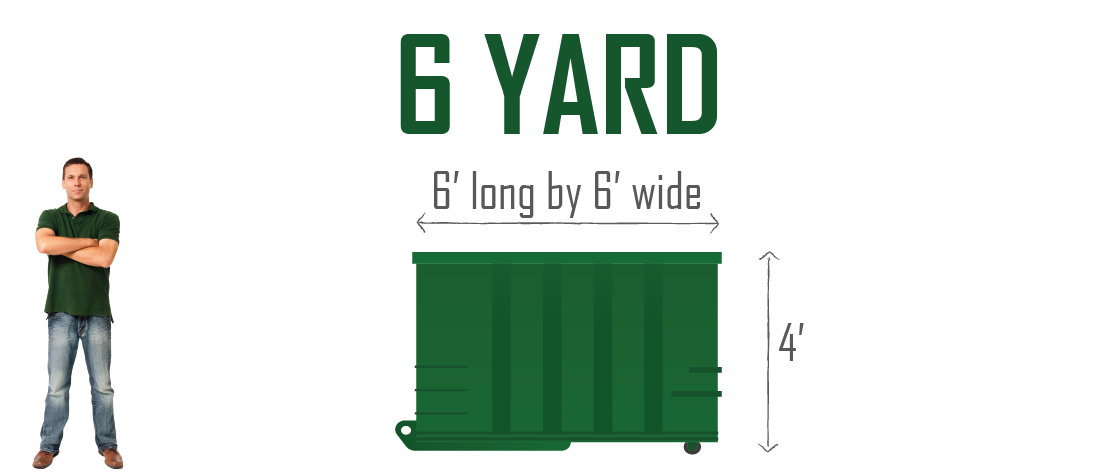 6 yard roll-off dumpsters are ideal for small-scale home cleaning projects. These will fit in narrow driveways and most alleys.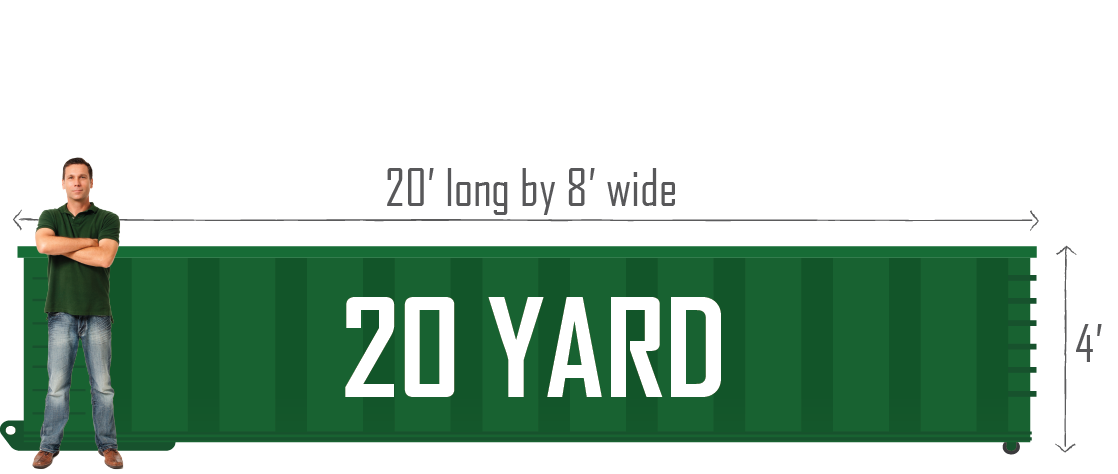 20 yard roll-off dumpsters are the most common choice for medium to large scale home remodeling and construction projects.