Green Bay Dumpster Rental
Service Areas within Green Bay:
Roll Off Dumpsters for Rent in Green Bay
New to the Green Bay Brown Co area, we offer a better deal, better value on renting a dumpster in Green Bay. We offer 6, 12, 20, and 30 yard roll off dumpsters for roof tear offs, remodeling, spring clean up projects, foreclosures, estate sales, hoarder houses, garage clean-ups, and more. If you are not sure on your dumpster size requirement give us a call at 920-412-6684.
What can I throw into a dumpster?
Dumpsters for Concrete
We offer 12 yard and 20 yard at a lower cost when we are able to reuse the material. Call us before ordering a dumpster for concrete for applicable restrictions. Concrete must be "clean".
Green Bay Dumpster Rental is a better value when you consider the longer rental periods, same day dumpster pick up and drop off service. higher tonnage caps and the twenty dollars savings when you order online. Rent a dumpster from Green Bay Dumpster Rental and make the best choice for your debris garbage and waste management needs.
Green Bay Dumpster Rental is here to make your clean-up project easy and affordable!
Check out our dumpster rental service area throughout northeastern Wisconsin.
Have questions about how much concrete you can put in your dumpster? Get your answers here!
Dumpsters for Recycling in Green Bay, WI
It is against Green Bay law to not recycle. But that doesn't mean you need a colossal-sized dumpster. We carry dumpsters sizes 6-yard to 30-yard. Call us today for the right-sized dumpster for recycling just for you. 920-459-3440
Dumpsters for Roofing ─ Green Bay, Wisconsin
Are you taking on the project of renewing your roof? Don't do it alone. Rent a dumpster for roofing today! We want to make your reconstruction process easy and effective.
Make sure you order the right size dumpster for your shingle job. Here at Green Bay Dumpster Rental we carry roll off dumpsters sizes 6-yard, 12-yard, 20-yard, and 30-yard. Pick yours up today!
Recycling is Mandatory in the City of Green Bay
The City of Green Bay does not collect any type of hazardous wastes. Please contact the Brown County Household Hazardous Waste Facility at 920-492-4950 for proper handling and disposal of hazardous wastes.
Brown County Household Hazardous Waste Facility 2561 S. Broadway – (920) 492-4950 Near Hwy 172 on the west side of the Fox River. Directions from Lambeau Field 1265 Lombardi Ave, Green Bay, WI 54304 - Head southwest on S Oneida St toward Stadium Dr 0.7 mi, Turn left onto Cormier Rd , 0.9 mi, Turn right onto S Broadway.
The Solid Waste Transfer Station is located at 3734 West Mason Street. The purpose of the Solid Waste Transfer Station is to transfer waste to landfills as part of a three county waste disposal plan. The county also maintains two closed sanitary engineered landfills. These landfills hold an estimated seven million cubic yards of waste produced by county residences, businesses and municipalities. Directions from Lambeau Field 1265 Lombardi Ave, Green Bay, WI 54304. (Head northwest on Lombardi Ave toward S Ridge Rd 1.2 mi, Turn right to merge onto I-41/US-41 N 0.8 mi, Take exit 168 for Wisconsin 32 S/Wisconsin 54 S/Mason St, 0.2 mi Keep left, follow signs for WI-54, W 312 ft,At the traffic circle, take the 2nd exit onto WI-54 W/W Mason St 0.1 mi, At the traffic circle, take the 1st exit onto W Mason St 4.0 mi) Across the street form the U-Haul Neighborhood Dealer.
Mon - Fri: 7:30 AM - 4:00 PM
Sat: 7:30 AM - Noon

Mon - Fri: 7:00 AM - 4:00 PM
Sat: 7:30 AM - 2:00 PM

Longer wait periods may occur during peak periods:
Mon - Fri: Noon to 3:00 PM
Sat: 10:00 AM - 1:00 PM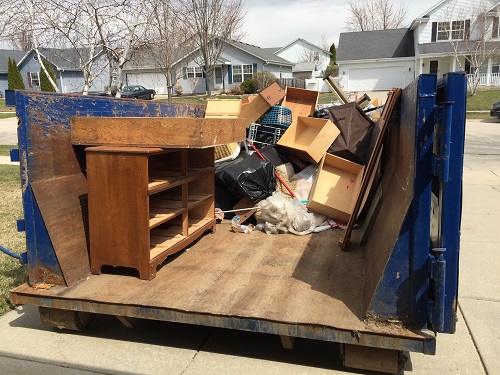 Construction & Demolition Waste
Items Recycled (loads should contain 60% or more of the following items):
Wood (dimensional lumber 2"x4" etc., plywood, tree trimmings, pallets, home demo, cabinets, doors, etc.)
Residential Shingles (mixed in loads, majority should go to shingle recycling)
Vinyl Siding
Aggregate (concrete, rock, brick, stone, porcelain, tile)
Drywall, New (standard, blue board, green board all okay) (painted drywall is unrecyclable (cardboard)
Metal (sheet metal, window frames, pipes, bikes, lamps, wire... any metal)
Cardboard 
Loads commonly accepted:
Home demolition
New residential construction
New commercial construction
Commercial loads containing shipping material (containing large quantities of pallets and
Drywall loads 
Loads commonly NOT accepted:
Commercial demolition containing large quantities of roofing (asbestos concerns)
Loads with majority of load containing plastic, tarps, burlap, or carpet
Commercial demolition containing large quantities of fines and little to no wood or metal
Household clean outs containing large amounts of trash, clothes, mattresses, or furniture
Asphalt Shingle Recycling, Unacceptable Debris
No asbestos
No cedar shakes
No tile
No slate
Clean Shingles 
Shingles that will be accepted as clean will have minimal tar paper and nails. 
Dirty Shingles
Shingles that will be accepted as dirty will have tar paper, nails including less than 10% of wood, plywood, OSB, plastic and metal.
The Brown County HHW facility is located at 2561 South Broadway in the Village of Ashwaubenon. Directions from Menards, 2560 Steffens Court, Green Bay, WI 54311 Get on I-43 S Take WI-172 W to Pilgrim Way in Ashwaubenon. Take the exit toward WI-32/Oneida St/Ashland Ave from WI-172 W Continue on Pilgrim Way. Drive to S Broadway.
Farms, businesses and residents of other counties please call (920) 492-4964 for appointment information

E-CYCLING INFORMATION:

The following are banned:
televisions
computers (desktop, laptop, netbook and tablet computers)
desktop printers (including those that scan, fax and/or copy)
computer monitors
other computer accessories (including keyboards, mice, speakers, external hard drives and flash drives)
e-readers
DVD players, VCRs and other video players (i.e., DVRs)
fax machines
cell phones
Many retailers in Wisconsin already collect electronics for proper disposal. In the Green Bay/Brown County area a variety of options already exists. See the list below for facilities in Green Bay that accepts electronics for recycling. As a note, some of these collectors may charge a fee for some or all of the types of electronics accepted under this program.
Brown County Household Hazardous Waste Facility 2561 S. Broadway – (920) 492-4950
Best Buy: 825 Pilgrim Way – (920) 494-2950
Cyber Works: 2022 E. Mason St. – (920) 497-2667
Lamp Recyclers Inc.: 3055 Holmgren Way – (920) 403-1166
Milwaukee PC: 1683 E. Mason St. – (920) 465-4430
Norsec Computer Recyclers: 801 S. Broadway – (920) 660-8181
The Brown County Household Hazardous Waste Facility accepts all types of electronics:
All types of residential electronics are accepted
Thursdays Noon - 6 pm
Saturdays 8 am - 2 pm
Material from other counties is accepted for a fee.
Brown County will accept material from people and businesses that do not reside in Brown County. In most cases the material will be charged the same VSQG rates that apply to Brown County businesses. Brown County has agreements with some neighboring Counties for their residents to deliver to the Brown County facility with the costs charged back to the County.
Please contact your local recycling or solid waste authority to see what services may be available in your area. Or contact the Brown County Port & Resource Recovery Department at 920-492-4950 for more information.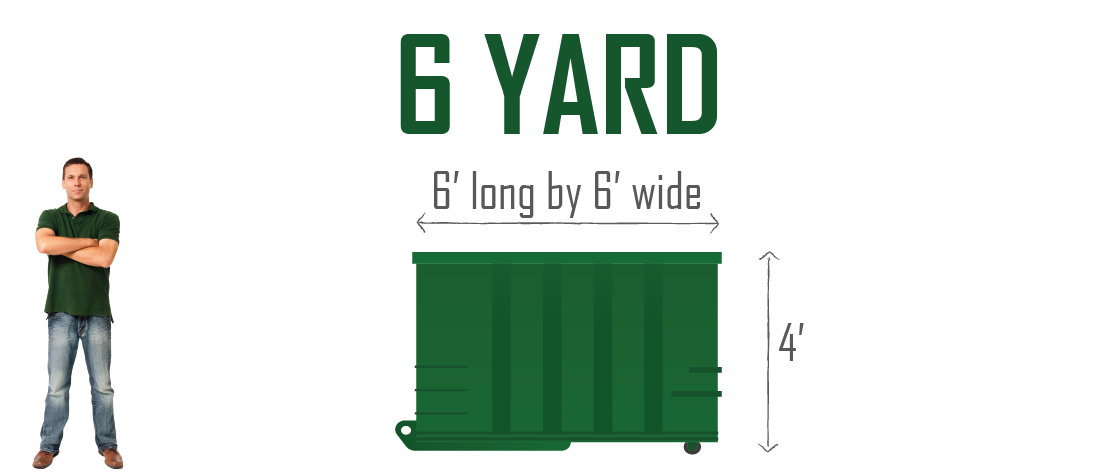 6 yard roll-off dumpsters are ideal for small-scale home cleaning projects. These will fit in narrow driveways and most alleys.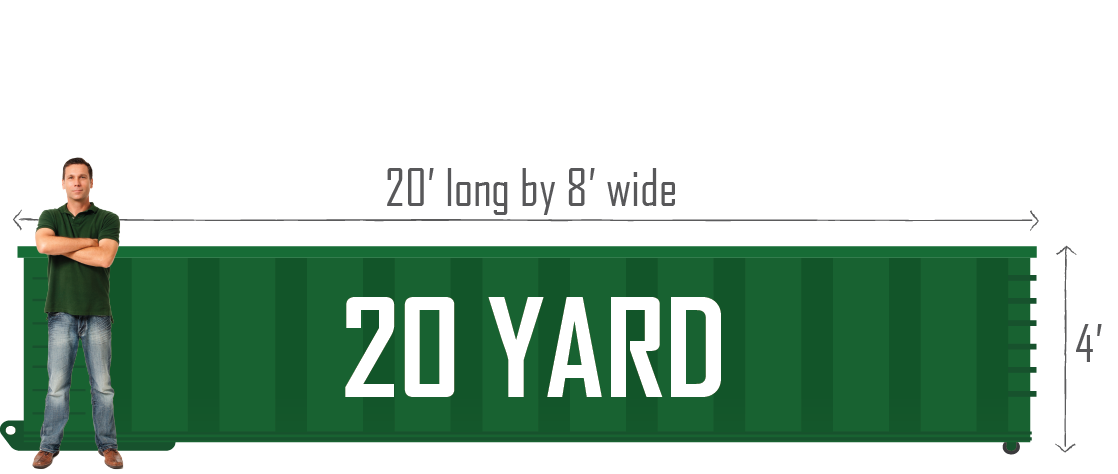 20 yard roll-off dumpsters are the most common choice for medium to large scale home remodeling and construction projects.