Door County Dumpster Rental
Get a Dumpster today!
Rent for 1 day or up to 15 days. Allow 24 hours for delivery and pick up. Closed on Saturday and Sunday.
SAVE $20 by ordering online
Affordable Dumpsters for Your Door County Project
We are announcing new service to Door County, WI! Green Bay Dumpster Rental provides the most affordable and convenient waste management solutions throughout the Door County area. Whether you're a homeowner, a local business, or a large corporation, our dumpster rentals can satisfy all your trash and junk removal needs. This area includes service to the following locations Algoma, Bailey's Harbor, Brussels, Casco, Egg Harbor, Ellison Bay, Ephraim, Fish Creek, Forestville, Kewaunee, Dyckesville, New Franken, Sister Bay and Sturgeon Bay. Save $20 when you order a roll off dumpster online. From Sturgeon Bay up to Ellison Bay, and everywhere in between, your waste management needs will be covered.
Sizes of Roll-Off Dumpsters in Door County
Our 7, 15, 20, and 30-yard roll-off dumpsters are the perfect waste containers for your construction projects or home cleanups in Door County. Choose a 7 or 15 Yard Roll Off for home cleanups and small projects, a 20 Yard Roll Off for a home renovation, or a 30 Yard Roll Off for a new construction or large home addition.
Rent a Dumpster for up to 15 days!
Green Bay Dumpster Rental has longer rental periods, ensuring you have enough time to finish your cleanup project. Whether you're roofing your home, completing a home renovation project, or simply cleaning out your home, you can trust the professional team at Green Bay Dumpster Rental to ensure the process is expedient and hassle-free. When you've finished filling up your dumpster, just email us and we'll pick it up. Rent for 1 day or up to 15 days.
Ready to return a dumpster? Contact us here, or call us at 920-412-6684.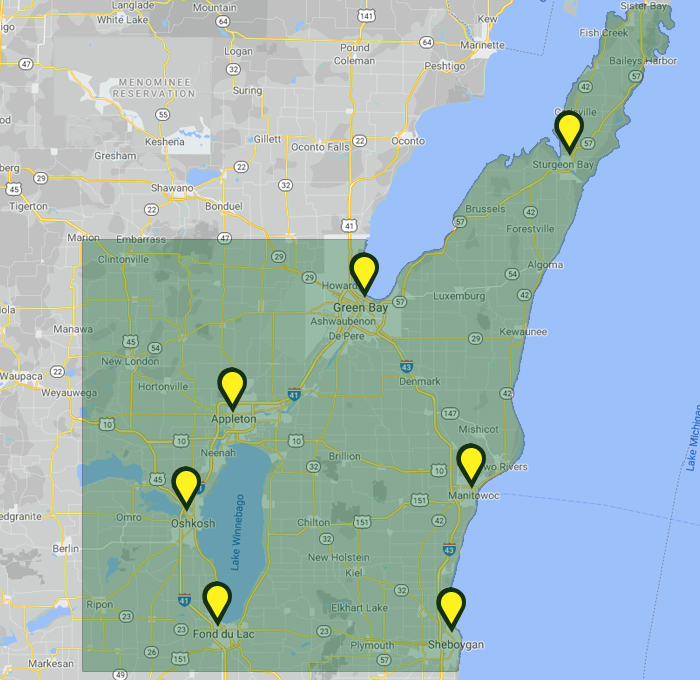 Ready to return a dumpster? Contact us here, or call us at 920-412-6684.
Sturgeon Bay Dumpster Rental
Are you looking for dumpster prices for Sturgeon Bay, WI? Good news for you. We have roll off dumpster service of 7yrd, 15yrd, 20yrd, and 30yrd at the best price. Save $40 when you enter code STURGEON40 when ordering online. You can keep the dumpsters for up to 15 days or return them as soon as you would like.
Roll Off Dumpster Pricing
We have a low flat rate price with a high ton cap and longer rental periods. See our roll off dumpster pricing for details. When the dumpster is picked up it will be weighed at the landfill for the net weight. If this weight exceeds the ton cap you may be charged per ton on a prorated basis. Tax and service fees and a set tonnage are included in the price. Extra charges may be applied if the dumpster cannot be delivered or picked up due to the area being blocked, or the dumpster being overloaded. Dumpster cannot be loaded over the top of the dumpster.
What can or can't I put in my dumpster?
You can put most items into a dumpster rental such as wood, plastic, clothes, paper, cardboard, shingles, plaster, drywall, metal, limited yard debris. The restricted items may be easier to list. Restricted items such as all liquids, tires, electronics, asbestos, dirt, asphalt, concrete, medical waste, and food items are prohibited. Please see the full list of things you can or can't put into a dumpster rental, and check out other dumpster rental FAQs.
Ordering a Dumpster
We have made it easy to order a dumpster. We have listed our dumpster prices online so you can order from your phone or desktop 24 hours a day from just about any location with wifi. You can always call or email us if you have any questions.
Ready to return a dumpster? Contact us here, or call us at 920-412-6684.