How Long Can I Rent a Dumpster in Green Bay?
Dumpster Rental Periods in Green Bay
Rent your Dumpster for Up to 15 Days (at the same price) – Return your dumpster anytime within the 15-day rental period.
With Green Bay Dumpster Rental you can rent a dumpster for 1 day or up to 15 days at the same cheap price! You do not need to keep the dumpster for the full 15 days. You can have your dumpster picked up after 1 day or a weekend if that is all the time you need for your clean-up project. Dumpsters are typically charged $10 per day over the 15-day period.
Just Need a Dumpster for a Few Days? No Problem! Give us a Call!
There are times when you only need a dumpster for 1 or 2 days. You might want to de-clutter your home or business once a year. This is a good way to keep up with the ever-growing buildup of trash that seems to accumulate in commercial businesses and homes. You can even mix some yard waste/debris and brush it with your household items. We also rent dumpsters for concrete and dirt. Please call before ordering a dumpster for concrete or dirt.
But once you're done with the rental dumpster, nobody wants it to just sit there on their property for weeks on end. With Green Bay Dumpster Rental, just let us know when you're done with your roll-off dumpster, and we'll come to pick it up!
Longer Dumpster Rental Periods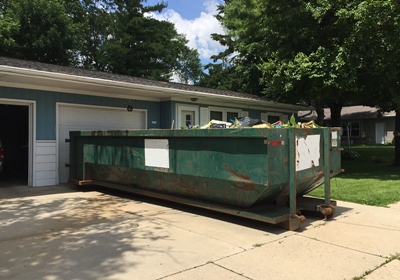 If you find yourself needing more time to finish your project due to unforeseen circumstances such as weather or a change to the scope of work, don't worry! You won't incur any additional cost to your dumpster rental unless the rental time extends past the 15-day period. A great value in a dumpster rental is a 15-day rental period on an already low dumpster cost. What size dumpster do I need for roofing?
Most dumpster companies offer only a 7-10 day rental period on their roll-offs. If you have a new construction project or a remodeling job that requires a roll-off dumpster we have the right size and rate for you. If you need a dumpster for moving, the 15-day rental period can take the edge off the time crunch accompanying the relocation of a home or business.
Dumpster Rentals for Clearing Estates in the Fox Valley
If you need to settle an estate that has thrived for 30-40 years you will realize the value that a 15-day dumpster rental can offer. Many of the items found in an estate after many years can be re-purposed or found as treasures. Many of the items can be viewed as trash. Green Bay Dumpster Rental offers low dumpster rental prices and longer rental periods, so you have time to sort through what you value.
Green Bay Dumpster Rental offers longer rental periods than the competition—place your order today!