Mishicot Dumpster Rental for Cheap
Cheap is good, when there is value to be had. Our dumpster prices are listed online where you can see the value for yourself. You will be able to see our dumpster rates and you will see that you can keep your dumpster for a longer period of time. You may keep your dumpsters for 1 day or up to 15 days. Our ton caps are set high for construction remodeling and this is an added value as well. Dumpster rental for roofing is cheaper as well, when you consider that roofing shingles are heavy and we have all the dumpster sizes that you may need for your roofing. 12 yard 20 yard and 30 yard. We can help you with all of your waste management needs. Whether you are moving from your residence or you are just cleaning up brush and yard waste debris at your home.
Dumpster rental for dirt, concrete or asphalt? The largest size we can offer for large amounts of this material is a 12 yard dumpster. Please check the restricted items list. You can mix small amounts of concrete, dirt, rock and asphalt with household construction debris. When you have large amounts of this material to dispose of you will need to contact us before you order your dumpster so that the material is recycled. Lower your waste management cost on dumpster rentals for your home or your business by ordering your dumpster with us. You will save an additional $20 when you order online. Dumpster rental for cheap for the removal of trash at your home or business. Check out our dumpster rental testimonials.
Mishicot Town Hall Town Hall
920-755-2681

TOWN OF MISHICOT GARBAGE DISPOSAL
Mandatory recycling in the State of Wisconsin has been in effect since January 1, 1995. As a result, the Town of Mishicot and the Town of Two Creeks have joined their efforts to operate a Transfer Station in order that the residents of the Town of Mishicot and the Town of Two Creeks can properly dispose of their trash and recyclables. All costs for running the facility are carried by you as a town taxpayer as part of the general town tax levy. There are no other charges for you to bring your trash and recyclables to the site. Please see the following pages regarding what is recyclable and the proper sorting of your recyclables. Please bring your garbage to the site in trash bags if at all possible. The Town of Mishicot eliminated its purchased trash bag program in early 2008.
NOTE: Town residents may at their expense contract with private haulers for curbside pickup.
When mandatory recycling is in effect and trash costs more to get rid of, some people will be tempted to throw such objects into our ditches. If you see someone throw such items out of their vehicle, get the license number and report it. We need everyone to dispose of their garbage and recyclables properly. We want our town to be kept clean, and we will not tolerate cleaning up someone else's garbage at our other town residents' expense! Usually there is something in a bag of garbage that can lead us to its owner.
TOWN OF MISHICOT RECYCLING

The following items are recyclable and may not be put in garbage dumpsters or landfills. The residents of the towns of Mishicot and Two Creeks have a garbage dumpster and recycling deposit bins available to them at the Town of Mishicot/Town of Two Creeks Transfer Site which is located at 4312 County Road V east of the village of Mishicot and Tannery Road. The site is open 8:30 a.m. to 2:00 p.m. every other Saturday.
-Aluminum containers
-Corrugated cardboard and other paper boxes (soda boxes, etc., - all must have brown interior. Not accepted are foreign cardboard which has a yellow or green tint, or cardboard with gray or white interior). Cardboard shall be dry, flattened, empty, and free of food debris and other contaminating material. Cardboard and paper should be bundled or bagged. Paper grocery bags work well.
-Magazines, catalogs, books and other material printed on similar paper.
-Newspaper and other materials printed on newsprint. Office paper, envelopes, junk mail.
-Glass containers – Glass containers shall be empty, rinsed clean, and free of caps and lids. The glass shall be sorted into three colors – green, brown (amber) and clear (flint). Not accepted are window glass, ceramics, light bulbs, and similar material.
-Plastics – At this time you may bring three types of plastic: #2 clear bottles (milk jugs, juice bottles, etc.; #2 colored bottles (most detergent bottles); #1 soda bottles (green, clear, brown)
All recyclable plastic bottles have a #1 or a #2 in the triangle. The items listed above must all be some sort of a bottle only. Tubs, pails, and all other forms of plastic are not accepted. Plastic containers shall be empty, rinsed, and free of caps, and shall exclude all containers that were used to hold chemicals, including motor oil.
Tin cans – Tin cans must be rinsed clean. Flattened cans will take up less space. All aerosol cans and cans that were used to hold toxic or hazardous substances will not be accepted.

ADDITIONAL NOTE: The transfer station does now have a bin for scrap iron.
IMPROPERLY PREPARED RECYCLABLE ITEMS WILL BE REFUSED.
The following items also may not be put in the transfer station garbage dumpsters:
Lead acid (vehicle) batteries
Major appliances (air conditioners, washers, dryers, dishwashers, freezers, microwaves, refrigerators, stoves)
Electronics
Waste oil
Tires or rims
Yard waste (leaves, grass clippings, sticks, brush, roots, shrubs)
Demolition Materials
Furniture, box springs, mattresses, unless broken down
Other materials such as deceased animals, toxic wastes, hazardous wastes, paints, etc.
Options for non-recyclable materials:
Many of the non-recyclable items above such as the major appliances and batteries can be taken to Salvage Battery and Lead in Mishicot.
Manitowoc County holds an annual tire day in the fall and an annual Clean Sweep in the spring to help you dispose of hazardous materials, light bulbs, and batteries. Manitowoc County also accepts computers and electronics (for a nominal fee).
Manitowoc County also operates two compost centers to handle your yard waste. They are located on Basswood Road and on Woodland Drive. You can also purchase compost, compost bins, and wood chips. They will even deliver a 5-yard load for a fee.
You may reach the Manitowoc County Materials Recycling Facility (MRF) at 920-683-4333 for more information about Clean Sweep, tire day, or compost site hours. There is also a handy Manitowoc County Recycling website containing information on these events as well.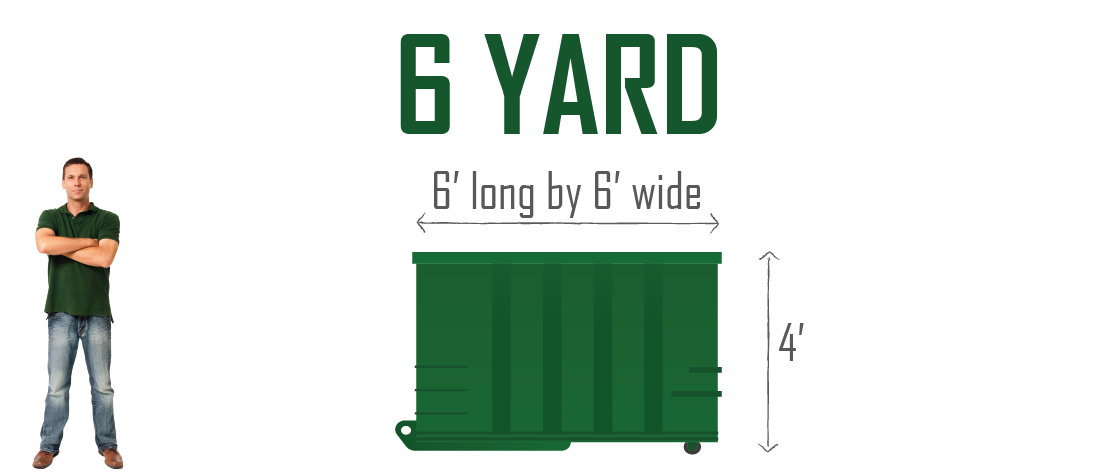 6 yard roll-off dumpsters are ideal for small-scale home cleaning projects. These will fit in narrow driveways and most alleys.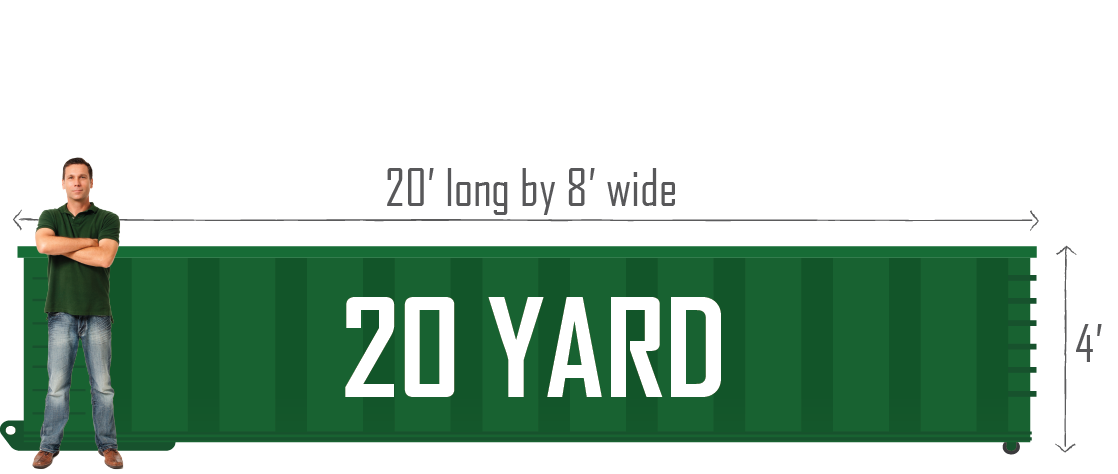 20 yard roll-off dumpsters are the most common choice for medium to large scale home remodeling and construction projects.