Waste Management Resources
Green Bay Dumpster Rental is here to help you with your clean up projects.
We will give you a 15 day rental period at no additional cost. Our staff has the experience to help you figure out the proper size dumpster for your roofing project, kitchen or basement remodel or just a spring clean up. We give you the time you need to sort through your items, and make decisions about what is actually trash or treasures or what needs to be recycled.
No need to pile your junk at the end of your driveway or on your front lawn, just check out the different options and container sizes offered by Green Bay Dumpster Rental, and get rid of your junk the right way!
Call Green Bay Dumpster Rental at 920-412-6684 today!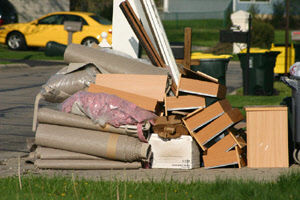 For your convenience, we provide a list of the dumps and landfills in Brown County for those small projects and limited junk removal. Many of the towns, villages, and cities around the Green Bay area offer a pick-up service or drop off locations for your smaller amounts of junk, garbage and debris. However, make sure you compare the prices and convenience of Green Bay junk services. Hauling your own junk can be inconvenient, and you can have a roll off dumpster for a longer period of time at no additional cost.
Here is quick link for recycling in the Green Bay area. Just search for your Green Bay area recycling information by your zip code!
We can reduce the stress and pressure away when it's comes to your spring cleaning or construction project. Green Bay Dumpster Rental knows some projects take more time than others. We won't charge you any hidden fees for extra days when you have a Green Bay home renovation or remodeling project. Check our prices and know that they include all fees. Green Bay Dumpster Rental has a longer dumpster rental service plus excellent personal customer service that equals a better value for you.
Green Bay Dumpster Rental Tips for Choosing What Dumpster Size to Get
We are dedicated to make ordering a dumpster rental as simple as possible. We offer the most popular range of roll off sizes: 12, 20, and 30 yard. These sizes are designed to meet all your clean up needs. Home remodeling, roofing, spring clean up, garage / basement debris removal and hoarder house clean outs. Please give us a call and we can help you to figure out the correct dumpster size.
Here are some tips:
If you fill your 12 yard dumpster to the rim and then dump it out, the junk and debris pile will be approximately the size of a mid-sized car or fill a one car stall of your garage.

Here is another dumpster tip: When you fill your dumpster be sure you keep the garbage load as flat as possible as you stack and break down as many items as possible. By using this tip you may be able to get twice as much as the average dumpster load.
We make renting a dumpster in Green Bay very easy. We provide longer dumpster rental periods without hidden fees. We offer excellent service, and the best value for a dumpster rental in Brown County.
View our dumpster rental prices online and save an additional $20.00 off of any dumpster size when ordering online.